Lincoln's Favorite Foods
Abraham Lincoln was not a persnickety man nor was he a man of excess. That held true on the matter of food and what Lincoln ate.
The rural nature of his Kentucky and Indiana homes made many types of food quite scarce. When Lincoln came to the White House, he told a story about his youth to an old-time Southern politician, meant to explain the fact that he was never accused of being too fond of the "pleasures of life" (that is, was never accused of loving women frivilously and in excess). That story, however, also tells us a bit about scarcity and the treats Lincoln enjoyed as a boy on the frontier:
One day, after we had become fairly good friends, I told him of my early prejudice. "Mr. Lincoln," I said, "I had heard every mean thing about you except one. I never heard that you were too fond of the pleasures of life." Mr. Lincoln sat for a moment stroking his cheek thoughtfully, and then he drawled out in his peculiar Western voice:

"That reminds me of something a boy said to me when I was about ten years old. Once in a while my mother used to get some sorghum and some ginger and mix us up a batch of gingerbread. It wasn't often, and it was our biggest treat. One day I smelled it and came into the house to get my share while it was hot. I found she had baked me three gingerbread men, and I took them out under a hickory-tree to eat them.

"There was a family near us that was a little poorer than we were, and their boy came along as I sat down. 'Abe,' he said, edging close, 'gimme a man.' I gave him one. He crammed it into his mouth at two bites and looked at me while I bit the legs from my first one. 'Abe' he said, 'gimme that other'n.'

"I wanted it, but I gave it to him, and as it followed the first one I said: 'You seem to like gingerbread.'

"'Abe,' he said earnestly, 'I don't s'pose there's anybody on this earth likes gingerbread as well as I do,' and drawing a sigh that brought up crumbs, 'I don't s'pose there's anybody gets less of it.'"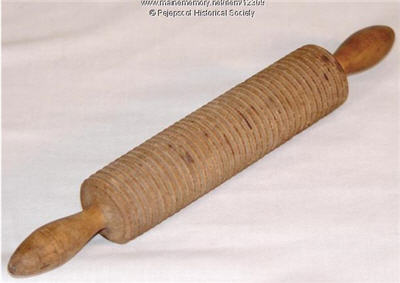 Rolling pin used for making gingerbread, ca. 1845
image from the Maine Memory Network, Pejepscot Historical Society
Not only did the frontier environment influence what Lincoln ate, so did the times in which he lived. Nearly two hundred years later, it's hard for us to imagine that people ate raccoons and pigeons. (Even in 1918, my own grandmother, traveling with her family out West, was denied squirrel for her 12th birthday dinner because the meat had gone bad--the squirrel having been caught and killed the day before.)
Four years into their marriage, Mrs. Lincoln purchased, on December 31, 1846, two of the popular books of the day on homemaking, both by Eliza Leslie. One of these was Directions for Cookery in Its Various Branches (20th edition, Philadelphia, 1844, 511 pages with illustrations), costing 87 cents.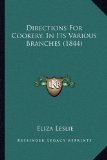 Directions for Cookery was first published in 1837. As Miss Leslie wrote in the preface, "The success of her little book entitled 'Seventy-five Receipts in Cakes, Pastry, and Sweetmeats' has encouraged the author to attempt a larger and more miscellaneous work on the subject of cookery, comprising as far as practicable whatever is most useful in its various departments; and particularly adapted to the domestic economy of her own country. Designing it as a manual of American housewifery, she has avoided the insertion of any dishes whose ingredients cannot be procured on our side of the Atlantic. ...The author has spared no pains in collecting and arranging, perhaps the greatest number of practical and original receipts [as "recipes" were called in that day] that have ever appeared in a similar work; flattering herself that she has rendered them so explicit as to be easily understood, and followed, even by inexperienced cooks."
Because of the enormous popularity of the book, Miss Leslie's Directions for Cookery was reprinted several times. (The reprint of the 1851 edition
is available on Amazon.) It contained practical recipes for the preparation of ox-tail soup, pigeon pie, hare or rabbit soup, honey cake, curds and whey, and flax-seed lemonade. Recipes more familiar to our modern palate included roast beef, chicken dumplings, peach jelly, and apple pie. Beyond recipes, Miss Leslie also gave valuable tips to novice cooks, including this one:
You will find that [cakes] are generally done when on probing them to the bottom with a twig from a broom, it comes out quite clean.
It is said--especially across the Internet--that Abraham Lincoln liked fricasseed chicken. The source of this observation is unknown to this author but if it is true, it is likely that Mary Lincoln consulted Directions for Cookery, which contained a recipe for fricasseed rabbits and this one for fricassed chickens:
Fricasseed Chickens

Having cut up your chickens, lay them in cold water till all the blood is drawn out. Then wipe the pieces, season them with pepper and salt, and dredge them with flour. Fry them in lard or butter; they should be of a fine brown on both sides. When they are quite done, take them out of the frying-pan, cover them up, and set them by the fire to keep warm. Skim the gravy in the frying-pan and pour it into half a pint of cream; season it with a little nutmeg, pepper and salt, and thicken it with a small bit of butter rolled in flour. Give it a boil, and then pour it round the chickens, which must be kept hot. Put some lard into the pan, and fry some parsley in it to lay on the pieces of chicken; it must be done green and crisp.

To make a white fricasse of chickens, skin them, cut them in pieces, and having soaked out the blood, season them with salt, pepper, nutmeg and mace, and strew over them some sweet marjoram spread fine. Put them into a stew-pan, and pour over them half a pint of cream, or rich unskimmed milk. Add some butter rolled in flour, and (if you choose) some small force-meat balls. Set the stew-pan over hot coals. Keep it closely covered, and stew or simmer it gently till the chicken is quite tender, but do not allow it to boil.

You may improve it by a few small slices of cold ham.
And just what are force-meat balls? Miss Leslie answers that question:
Force-Meat Balls

To a pound of the lean of a leg of veal, allow a pound of beef suet. Mince them together very fine. Then season it to your taste with pepper, salt, mace, nutmeg, and chopped sage or sweet marjoram. Then chop a half-pint of oysters, and beat six eggs very well. Mix the whole together, and pound it to a paste in a marble mortar. If you do not want it immediately, put it away in a stone pot, strew a little flour on the top, and cover it closely.

When you wish to use the force-meat, divide into equal parts as much of it as you want; and having floured your hands, roll it into round balls, all of the same size. Either fry them in butter or boil them.

This force-meat will be found a very good stuffing for meat or poultry.
Once Abraham Lincoln arrived at the White House, others made a more careful documentation of his eating habits. One example comes from Colonel W. H. Crook. "Crook" was one of Lincoln's bodyguards who guarded Lincoln in a 12-hour shift beginning in January 1865. This is what he writes in Memories of the White House (1911):
The daily life of Mr. and Mrs. Lincoln usually commenced at eight o'clock, and immediately upon dressing the President would go into the library, where he would sit in his favorite chair in the middle of the room and read a chapter or two of his Bible. I think I am safe in saying that this was President Lincoln's invariable custom--at least it was such during the time I was on duty with him.

At about eight-thirty he would join Mrs. Lincoln and little Tad in the small, unpretentious dining-room where a plain but sufficiently hearty meal was served by two waiters who were white men, and who were paid personally by the President, who also paid the wages of the cook and his coachman and footman. There was little formality about the meal; the President loved to joke with his wife and son, and for the time being put aside the cares of his great office and his anxiety for the country.

...Mr. Lincoln ate heartily but not to excess; he was particularly fond of certain things, especially apples, and Mrs. Lincoln always had a sufficiency of this fruit chosen carefully and ready at hand. The President never used tobacco as far as I know, and I never knew him to drink wine or other alcoholic beverages, not even at state dinners where, of course, wines were provided for those who wished them.
John Hay, one of Lincoln's two personal secretaries, corroborates this, noting that Lincoln's lunch consisted of "a biscuit, a glass of milk in winter, some fruit or grapes in summer. He was very abstemious--ate less than any one I know. Drank nothing but water--not from principle, but because he did not like wine or spirits."
Crook continued with a description of dinner:
...During the time that I was serving as personal body-guard to Lincoln, he and Mrs. Lincoln usually dined at seven o'clock in the evening--a leisurely meal, well cooked, well chosen, with special reference to the President's dislike of elaborate dishes and "frills" in general.

...[Mrs. Lincoln] oversaw and directed everything herself. She knew just what kinds of foods should be provided, what cuts of various meats were the best, how vegetables should be prepared, how bread should be made. And what is more, her cook, and her waiters, and her few other servants, knew that she knew.

...After dinner, at about eight o'clock, the President would rise from the table and go at once across to the War Department to get the latest news from the front, excepting on Thursday evenings, when he waited until the regular levee [public reception] had been held.
Of course, the informality of Lincoln's daily meals sometimes gave way to expansive menus at elegant events such as inaugural balls and White House dinners. Read more about the White House china the Lincoln's used in formal public receptions and White House dinners in the article about Lincoln collectibles in the category of china and glassware.
Did You Know?
Did you know there is a tomato named after Abraham Lincoln?
---
Lincoln's Table, by Donna D. McCreary, is a compilation of 125 recipes for foods that the Lincolns enjoyed, including flannel cakes (pancakes) and corn bread, courting cake and Executive Mansion party fare. The book also provides anectdotes about Abraham Lincoln's childhood and background information about many ingredients used in the recipes, as well as photos and menus. The recipes, though historically authentic, have been converted to modern-day measurements for those who don't know that "two jills" are half a pint, as are "four wine glasses."

Donna McCreary is a Mary Todd Lincoln presenter who has studied Lincoln family lore to accurately share Mary Lincoln and the Lincoln household to her audience. She has presented at the Lincoln Home in Springfield, Illinois, and the Mary Todd Lincoln House in Lexington, Kentucky.
---
sources:
"Abraham Lincoln's Health," The Lincoln Institute, http://www.abrahamlincolnsclassroom.org/Library/newsletter.asp?ID=25&CRLI=105
Leslie, Eliza (a.k.a. Miss Leslie). Directions for Cookery in Its Various Branches, tenth edition, Philadelphia: E. L. Cary & A. Hart, 1840, pp. nnn, http://digital.lib.msu.edu/projects/cookbooks/books/directionsforcookery/dcvb.pdf [PDF is about 44MB]
Life, vol. XXVII, no. 679, January 2, 1896, New York, p. 520, http://books.google.com/books?id=I0DZAAAAMAAJ&pg=PA520http://books.google.com/books?id=I0DZAAAAMAAJ&pg=PA520
Pratt, Harry E. The Lincolns Go Shopping (is this part of personal finances book by pratt?) pp. 66-67, http://dig.lib.niu.edu/ISHS/ishs-1955spring/ishs-1955spring-065.pdf [PDF]
Rood, Henry (ed.). Memories of the White House, being personal recollections of Colonel W. H. Crook, some time body guard to Lincoln, Boston: Brown, Little, and Company, 1911, pp. 15-16, 20, 33, http://books.google.com/books?id=vOs_z4W1wHkC&pg=PR3
how to cite this article:
Gentry, Renee. "Lincoln's Favorite Foods," EverythingLincoln.com, November 2010, http://www.everythinglincoln.com/articles/Lincoln-Favorite-Foods.html