...While I have not the power to grant all they ask, I trust they will remember that God has, and that, as it seems, He wills to do it.
- Abraham Lincoln, April 5, 1864
Emancipation Proclamation and the Little People's Petition
The moment when students learn that the Emancipation Proclamation did not free all the slaves is sobering. For some, the revelation leads to further enlightenment as they seek to learn more about Constitutional history. But for others, the revelation throws them headlong into the canyon of cynicism. They emerge carrying a burden of bitterness, claiming that a racist Lincoln did the safe thing by, in fact, freeing no one with his proclamation.
Students in 1864 wrestled with these same questions: Had Abraham Lincoln done enough? Could he do more? Teacher Mary Tyler Peabody Mann, widow of the great educational reformer Horace Mann, sent a petition to Senator Charles Sumner from the children of Concord, Massachusetts, for delivery to Lincoln. Across the top she boldly inscribed: "Petition of the children of the United States; (under 18 years) that the President will free all slave children." One hundred and ninety-five students had signed the petition. (Parents added their own annotations.) Lincoln labeled the envelope that contained the petition, "Little People's Petition."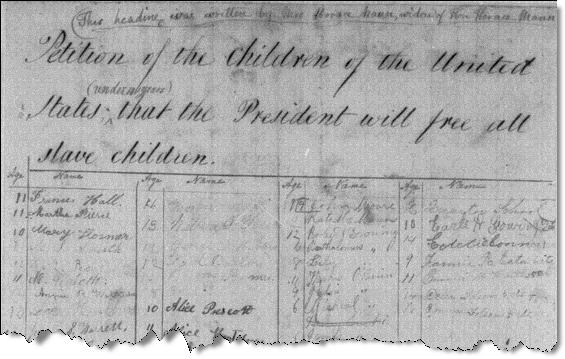 See the full petition at the Library of Congress
Lincoln was well aware that his proclamation did not free all the slaves. He was also quite clear on the fact that the Constitution protected slavery where it existed--even before the Supreme Court essentially declared that the federal government could do nothing to stop slavery from spreading anywhere it well pleased to go.
Lincoln called out the Emancipation Proclamation as a "fit and necessary war measure for suppressing said rebellion," and executed the proclamation by "virtue of the power vested in me as Commander in Chief of the Army and Navy of the United States in time of actual armed rebellion against the authority and Government of the United States." With that authority, he declared all slaves held in any State or part of a State that was in rebellion against the United States to be free.
The students--like Lincoln, no doubt--wanted all the slave children to be free and petitioned the President to make it so. To this, Lincoln forwarded the following letter in reply to their teacher:
EXECUTIVE MANSION, WASHINGTON, APRIL 5, 1864
MRS. HORACE MANN

Madam,

The petition of persons under eighteen, praying that I would free all slave children, and the heading of which petition it appears you wrote, was handed me a few days since by Senator Sumner. Please tell these little people I am very glad their young hearts are so full of just and generous sympathy, and that, while I have not the power to grant all they ask, I trust they will remember that God has, and that, as it seems, He wills to do it.

Yours truly
A. Lincoln
(The letter was forwarded through Senator Sumner, to whom Lincoln wrote: "If Senator Sumner thinks it would be proper, he may forward the inclosed to Mrs. Mann.")
This letter has come to be known as the Little People Letter. Sotheby's called it Lincoln's most personal and powerful statement on God, slavery and emancipation. On April 3, 2009, the letter was sold at auction by Sotheby's New York for $3.4 million. (A draft copy of the Little People Letter is held by the Library of Congress.)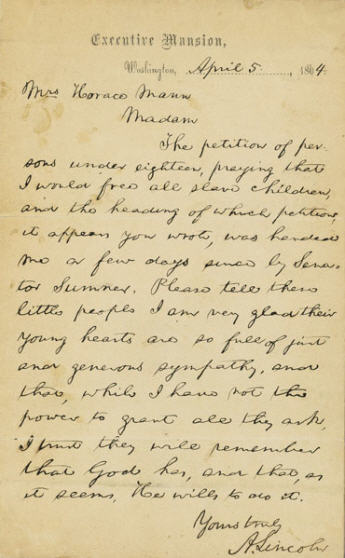 The description of the letter and its condition was provided by Sotheby's: "Autograph letter signed ("A. Lincoln"), 1 page (8 x 5 in.; 204 x 126 mm) on a bifolium of Executive Mansion letterhead. ...Browned, fold separations neatly mended, verso of integral blank stained as though from mounting, integral blank with some marginal restoration."
In reply to Lincoln's letter on April 20, Mrs. Mann wrote:
It was wholly without my knowledge that my name was sent to you in connection with the petition of persons under eighteen in Concord--praying you to free all slave children--but I cannot regret it, since it has given me this precious note from your hand.

...I assure you that there is no promise to us for the future welfare of our country which we value as we do the words for freedom which occasionally fall from your lips.

...We intend to immediately scatter fac-similes of your sweet words to the children like apple blossoms all over the Country--and we look with more hope than ever for the day when perfect justice shall be decreed, which shall make every able bodied colored man spring to the defence of the nation which it is plain the white man alone cannot save. You who can hasten it must be the happiest of men, for in saving the colored man you will feel that you are doing equal service to the white man.
Lincoln's reply was widely reprinted and lithographed. Roy Basler notes that because Mrs. Mann wished to remain anonymous, the facsimiles show "Mrs. _____ (of Concord Mass.)" rather than the "Mrs. Horace Mann" address from the actual letter.
sources:
Basler, Roy P. (editor). The Collected Works of Abraham Lincoln, volume VII, New Brunswick, NJ: Rutgers University Press, 1953, p. 287, 288.
Sotheby's. Presidential and Other American Manuscripts from the Dr. Robert Small Trust. Lot 85, Lincoln, Abraham, as Sixteenth President.