View-Master:
Lincoln Heritage Trail
The Lincoln Heritage Trail, established in 1963, promoted tourism along several highways that pass near or through Lincoln sites in three states: Kentucky, Illinois, and Indiana. That same year, renouned Lincoln scholar R. Gerald mcMurtry had this to say about the trail segment in Kentucky:
From a Lincoln historian's point of view, it is difficult to understand how such a Lincoln Heritage Trail could be devised. Certainly, Thomas Lincoln and his son Abraham would be amazed with such a meandering route that goes or ends no place in particular. The majority of the Kentucky cities and towns on this Lincoln Heritage Trail route have no Lincoln connection whatsoever. Then, too, the trail only here and there follows or crosses the path the Lincolns followed as they moved from Kentucky to Indiana in 1816.

Apparently, the highway official's main objective was to keep the motorist on good highways.
Actually, the main object was to keep the motorist buying gasoline from the American Petroleum Institute. The Lincoln Heritage Trail was one of many historic "trails" established in the early 1960s to get people traveling.
Don't confuse the 2,200 miles of the Lincoln Heritage Trail with the Lincoln Trail commonly hiked by Boy Scouts. The latter runs from New Salem to Springfield, Illinois.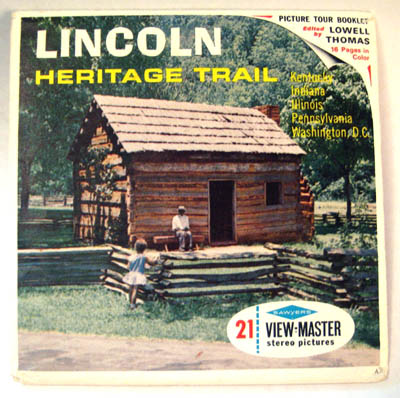 The Lincoln Heritage Trail View-Master reels highlight sites along the trail, as well as sites at Gettysburg and in Washington, D.C. Twenty-one pictures are included in the View-Master A-390 pack by Sawyer:
Girlhood Home of Nancy Hanks, Mother of Lincoln
Lincoln's Birthplace, near Hodgenville, Kentucky
Replica of His Early Childhood Home, Knob Creek
Monument Marks His Boyhood Home in Indiana
Grave of Lincoln's Mother
Indiana Cabin Replica Shows Abe Studying by Fireplace
Lincoln Trail Monument Marks Entry into Illinois
Lincoln-Berry Store Interior, New Salem, Illinois
Statue of Young Lincoln at Restored New Salem
Ann Rutledge Grave, Petersburg, Illinois
Logan-Lincoln Law Office, Still in Use at Springfield
Abe Practiced Law in This Old Illinois Courthouse
Lincoln Family Home at Springfield



In This Room Lincoln Heard News of His Nomination
Lincoln-Douglas Debate Memorial, Freeport
Diorama Shows Lincoln Leaving Springfield for White House

Lincoln Put Final Touches on Gettysburg Address Here
Gettysburg Monument Honors Famous Speech



Ford's Theatre, Washington, Where Lincoln Was Shot



House Where Lincoln Died of Assassin's Bullet
Lincoln Memorial, Washington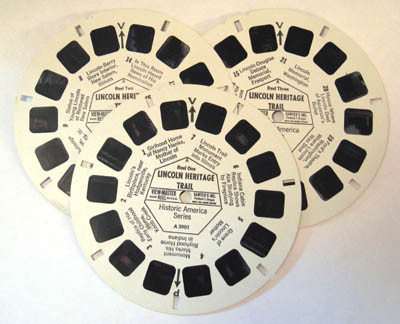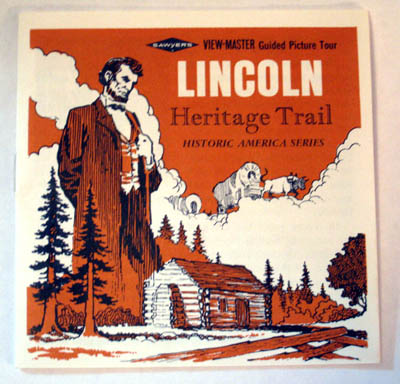 The 16-page booklet features a brief paragraph about the view in each picture. It also includes 7 related monochrome illustrations and a useful map. Of course, with room for only a brief bit of text, the booklet leaves much detail out. However, I was impressed that View-Master didn't fall for the Ann Rutledge Romance myth:
Slide 3: Grave of Ann Rutledge

Ann Rutledge was a daughter of the New Salem inn-keeper. When she died of fever at the age of 19, Lincoln grieved deeply. But modern historians believe that the romantic story of their tragic love is more legend than fact. Her grave is in Oakwood Cemetery at nearby Petersburg. On the stone is a poem by Edgar Lee Masters.
If eBay search results don't appear, click Search to see eBay Stores items.
sources:
Ferguson, Andrew. Land of Lincoln,
New York: Atlantic Monthly Press, 2007, pp. 200-201.

Lincoln Heritage Trail, Portland, Oregon: Sawyers, Inc.

McMurtry, Gerald R. "The Lincoln Heritage Trail in Kentucky," Lincoln Lore, Ft. Wayne, Indiana, Number 1505, July, 1963.

Neely, Jr., Mark E. The Abraham Lincoln Encylopedia, New York: Da Capo Press, 1982, p. 190.