As Seen on eBay
eBay ran television advertisements in late 2005 reminding buyers that whatever they were looking for, they could find "it" on eBay. For Lincoln collectors, "it" is anything "Abraham Lincoln." Here are some interesting things related to Abraham Lincoln that are now selling on eBay, or have sold recently. Be sure to check this page often so you don't miss out on a rare find!
See also: Lincoln Collectibles

As Seen on eBay has moved. It's now in blog format so it is more easily updated and categorized. Please visit As Seen on eBay new location.
January 2006
Abraham Lincoln Funeral Ticket
view the original eBay listing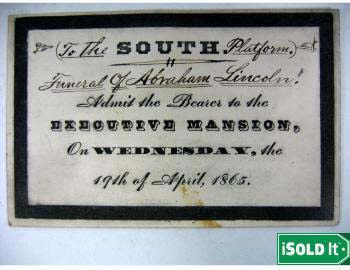 An Abraham Lincoln funeral invitation ticket sold for $2,050.25 on Jan 31, 2006. The ticket was listed on eBay by an iSold It drop-off store. The seller described this as being a 5" x 3-1/4" original card. The back side had much writing in pencil. Refer to the picture to see the general condition. (More pictures are included in the original listing.)
"To the South Platform. Funeral of Abraham Lincoln! Admit the Bearer to the Executive Mansion, on Wednesday, the 19th of April, 1865."
eBay is a registered trademark of eBay, Inc.