Abe Lincoln in Disney Vinylmation
Walt Disney admired Abraham Lincoln, first featuring him in a Disney attraction, Great Moments with Mr. Lincoln, at the New York World's fair in 1964. The Disneyland attraction known as Great Moments with Mr. Lincoln was opened during Disneyland's 10-year anniversary year on July 18, 1965.
In 2011, Disney Parks honored Abraham Lincoln again with Abe Lincoln in Vinylmation. Two of them: in the Park 6 vinylmation collection and the Park Starz vinylmation collection.
Vinylmation: Park 6 Collection
The Abraham Lincoln vinyl figure is part of the Parks 6 collection. It's the Mystery Chaser shown here with a question mark: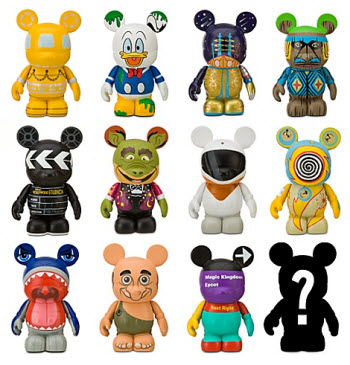 Each Vinylmation figure in this series (now sold out) was sold for $9.95 in a blind-box package, so you didn't know which one you bought until you opened it. Disney says, "The designs represent various landmarks and attractions from the Disney Parks including Storybook Land Canal Boats at Disneyland, Monorail Orange, Disney's Hollywood Studios, Adventureland, Norway Pavilion at EPCOT, Cosmic Ray's Starlight Cafe at Magic Kingdom, Space Mountain at Disneyland Paris, the Lifeboats on the Disney Cruise Line, a Walt Disney World direction sign, Primeval Whirl at Disney's Animal Kingdom." Naturally, the twelfth figure represents Great Moments with Mr. Lincoln.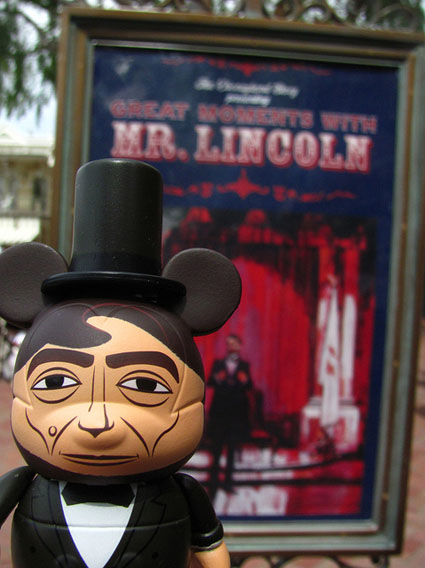 photo used with permission from Loren Javier on Flickr
Abe Lincoln Vinylmation by Disney
Like the other figures in the series, Abe Lincoln is 3" high. That's a 1:25 scale--at least on a height basis. Abe Lincoln comes packaged in foil, which is then packed in the blind-box. The artist is Thomas Scott, but an artist card that comes with this figure.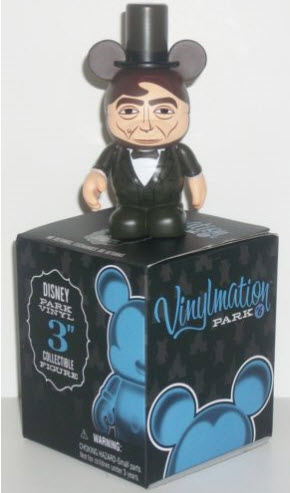 The Abe Lincoln vinylmation, with box and (usually opened) foil, sold on eBay for an average of $28.89 during the first half of August, 2011. The entire Park 6 set with 12 figures including Lincoln sold on eBay for $95 on August 7, 2011.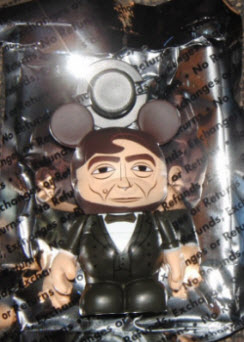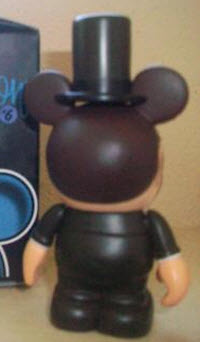 Lincoln sports a hair style like none seen previously! His infamous hat is a separate piece. Here he is, hat in hand: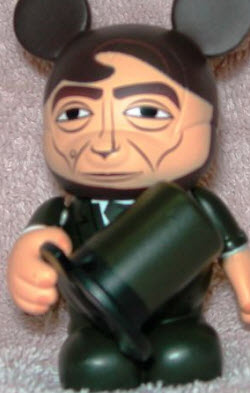 Vinlymation: Park Starz Collection
Park Starz Series 1 went on sale at the D-Street locations in California and Florida on Friday, October 21, 2011. The series is comprised of 12 vinylmation figures (including one mystery chaser) featuring classic stars from around the Disney parks. Note that this series introduces new character shapes. There will also be variants released as limited editions throughout 2012.
President Abraham Lincoln is part of the Park Starz Series 1 vinylmation collection by Disney.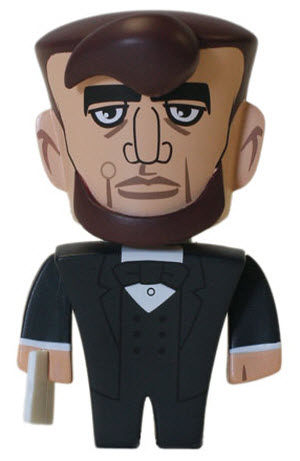 There is a 3-inch copper variant of the Park Starz Abraham Lincoln vinylmation that is a limited edition of 2500. It sells on eBay for about $25.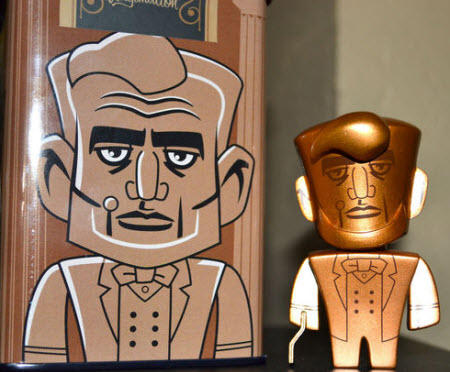 These vinylmations are also depicted in a pin set. The Disney Abraham Lincoln vinylmation reveal/conceal pins include a standard Lincoln as well as a copper variant.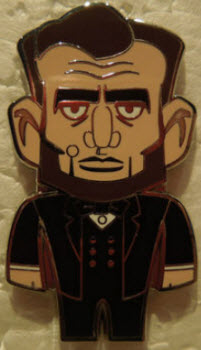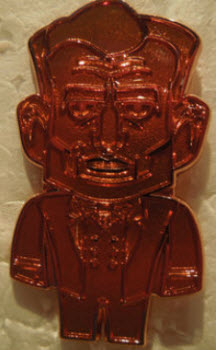 Vinylmation is a trademark of Disney.
Sources:
Javier, Loren. Abe Lincoln Vinylmation at Great Moments with Mr. Lincoln, Flickr, http://www.flickr.com/photos/lorenjavier/5583894615
Vinylmation Park 6 Series, http://www.disneystore.com/vinylmation-vinylmation-park-6-series-figure-3-h/mp/1282029/1000828/
Vinylmation Park Starz, http://eventservices.disney.go.com/static/vinylmation/parkstarz.html