Abraham Lincoln Thimbles
Lincolniana is Abraham Lincoln memorabilia and ephemera in a variety of formats, ranging from the serious and scholarly, to the outright silly and satirical. Here are some Lincoln collectibles in the category: "Thimbles."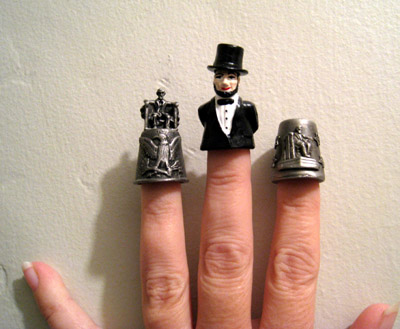 A variety of thimbles depict Lincoln and events and places related to him. Some thimbles are more whimsical than practical. The index finger thimble shown here is quite practical with a flat head. The one on the ring finger is not. What about the middle-finger thimble? Before you rush to judgment, take a look at the detail pictures that follow.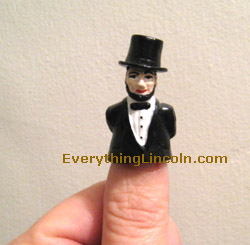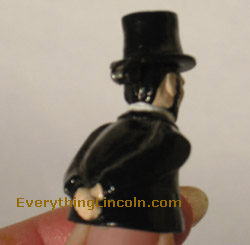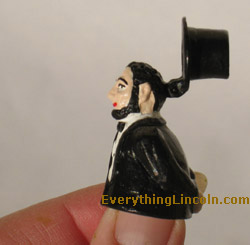 The two thimbles shown here commemorate the Lincoln Memorial in Washington, D.C.
This one shows an embossed Lincoln, seated as he appears in the Lincoln Memorial. The backside shows the Gettysburg Address, which appears on one wall in the memorial.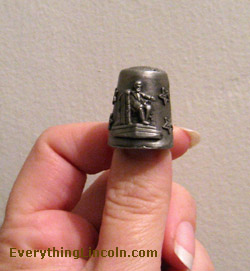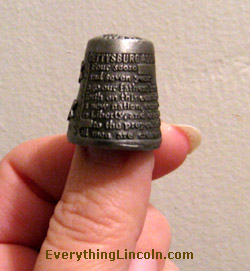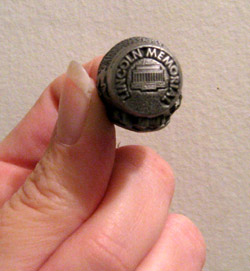 This thimble features a three-dimensional seated Lincoln.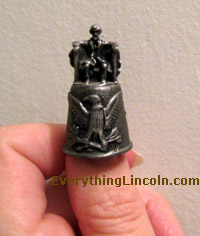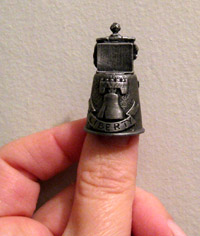 Of course, there are more traditional thimbles with dimples on top that feature both Abraham Lincoln and his wife, First Lady Mary Todd Lincoln.
The First Ladies of the United States collection of 43 thimbles was offered by Franklin Porcelain in 1978. (They were produced just after Jimmy Carter was elected President; later a 43rd thimble was added for First Lady Nancy Reagan.) The thimbles are made of fine bone china, handpainted, and decorated in 24 kt gold. They were part of a mail order subscription in which the buyer received a thimble each month, along with an invoice (so many subscribers dropped out along the way.) This thimble is fairly common on eBay and sells for about $7.00.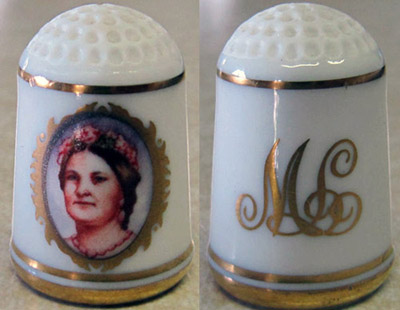 Abraham Lincoln is shown on this Birchcroft fine china thimble embellished with an 18 kt gold band at the bottom. Several sold on eBay in 2012, for about $4.50 each.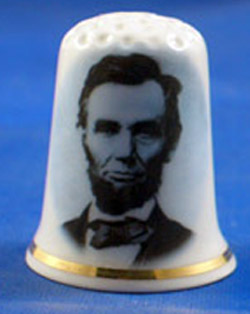 The unique thimble is called a peep hole thimble. It sold on eBay in February 2013, for $28.